Discover more from Interesting Finds
A newsletter of curious content curated by @trevin. Each issue covers the most interesting content I come across each week.
Interesting Finds: Issue #8
The Presidential Debate, Wildfires, Levis and Wes Anderson
Welcome to the 8th edition of Interesting Finds. As always, this issue covers a smattering of curious content, with a spotlight on portions of the issues I find most interesting.
First 2020 Presidential Debate
The First 2020 Presidential Debate was this week and everything about it was far from Presidential. The BBC said it best with their article titled "The loser is us, the American people". While Biden was far from well-behaved, Trump acted like a schoolyard bully with constant interruptions and violating the debate format agreed on by both parties.
GQ described the debate the best with this single sentence:
"So the debate was, in essence, three men in their 70s interrupting each other halfway through sentences only to be, in turn, counter-interrupted.
While I'm not a FOX News fan, I am a fan of Chris Wallace's journalism. He tries to be impartial, asks hard questions on issues to both sides of the aisle. I had high hopes for him as the moderator of this debate, but left incredibly disappointed. The Guardian published a video showing how he struggled with Trump throughout the debate:
Following the debate, Wallace called it a "a terrible missed opportunity" and also:
"I'm just sad with the way last night turned out. […] I never dreamt that it would go off the tracks the way it did."
he went onto say:
"I've read some of the reviews. I know people think, well, gee, I didn't jump in soon enough," Mr. Wallace said, his voice betraying some hoarseness from the previous night's proceedings. "I guess I didn't realize — and there was no way you could, hindsight being 20/20 — that this was going to be the president's strategy, not just for the beginning of the debate but the entire debate."

Note: Rev published the entire debate transcript, including links to jump to the corresponding video. If you didn't watch the debate, it's a great way to dive into specific sections.
Of all the meme- (and cringe) worthy parts of the 90 min debate, the one that is currently getting all the spotlight is the part where Biden tells Trump "Shut up man… this is so unpresidential" after Trump tries to talk over him for what felt like the 2000th time during the debate.
With an hour of this moment, there were already "Shut up man" t-shirts being sold. On Etsy, there are already necklaces, mugs, lawn signs, wine glasses, masks and of course hats. The internet never ceases to amaze me.
Lastly, there was one particularly juvenile part to highlight where Trump decided to attack Biden for using the word "smart" in his takedown of Trump's handling of the COVID19 crisis:
The Lincoln Project, a well-known Republican PAC, just released a pretty epic ad in response:
Oh boy, and to think we still have over 30 days left of this. Biggest takeaway? Please vote!
One Job. Two Job. No Job?
Michael Arrington is the founder of TechCrunch and Venture Capitalist based out of the SF Bay Area. This tweet caught my eye:
There's nothing usually wrong with having two jobs, and in fact, Jack Dorsey, a well known CEO also in Silicon Valley is CEO of two companies simultaneously: Twitter and Square.
Let's assume the story is true in Arrington's tweet and there is really a person who is working simultaneously at Google and Facebook. In many circumstances, there's nothing wrong with working multiple jobs. However, in this case it's ripe with issues both legal and ethical stemming from conflict of interest and business risk. Google and Facebook are direct competitors in many lines of business such as advertising, so working at both companies has all sorts of issues regardless of your specific job. It's likely there is even language in the person's employment agreement that forbids something like this. Oh Silicon Valley, how we love you for all your quirks.
Interestingly, back in 2013, there was a US-based software engineer that was found to have been outsourcing his job to someone in China. He paid out 1/5th of his salary for someone overseas in China to do his job while he "spent his workdays surfing the web, watching cat videos on YouTube and browsing Reddit and eBay". From the BBC:
The software developer, in his 40s, is thought to have spent his workdays surfing the web, watching cat videos on YouTube and browsing Reddit and eBay.

He reportedly paid just a fifth of his six-figure salary to a company based in Shenyang to do his job.

Operator Verizon says the scam came to light after the US firm asked it for an audit, suspecting a security breach.

According to Andrew Valentine, of Verizon, the infrastructure company requested the operator's risk team last year to investigate some anomalous activity on its virtual private network (VPN) logs.

"This organisation had been slowly moving toward a more telecommuting oriented workforce, and they had therefore started to allow their developers to work from home on certain days. In order to accomplish this, they'd set up a fairly standard VPN concentrator approximately two years prior to our receiving their call," he was quoted as saying on an internet security website.

The company had discovered the existence of an open and active VPN connection from Shenyang to the employee's workstation that went back months, Mr Valentine said.

And it had then called on Verizon to look into what it had suspected had been malware used to route confidential information from the company to China.

"Central to the investigation was the employee himself, the person whose credentials had been used to initiate and maintain a VPN connection from China," said Mr Valentine.
Lastly, I found this reply on Twitter to Arrington's original tweets which raises all sorts of questions on "why", but I'll leave that potentially to a future issue of IF.
Wildfires
Wildfires have engulfed huge amounts of land on the west-coast this year. According to National Geographic:
The flames have burned 5.8 million acres so far in the three states most affected—California, Oregon, and Washington, a total area larger than the state of New Jersey. Wildfires have killed at least 36 people to date in those states and destroyed hundreds of homes.
In Oregon, over 900,000 acres burned in a 72 hour period have been burned and the wildfires are the worst the state has ever seen. 1 in 10 Oregon residents were in evacuation orders in September. Here's a devastating photo of the damage in Phoenix, Oregon courtesy of Vox: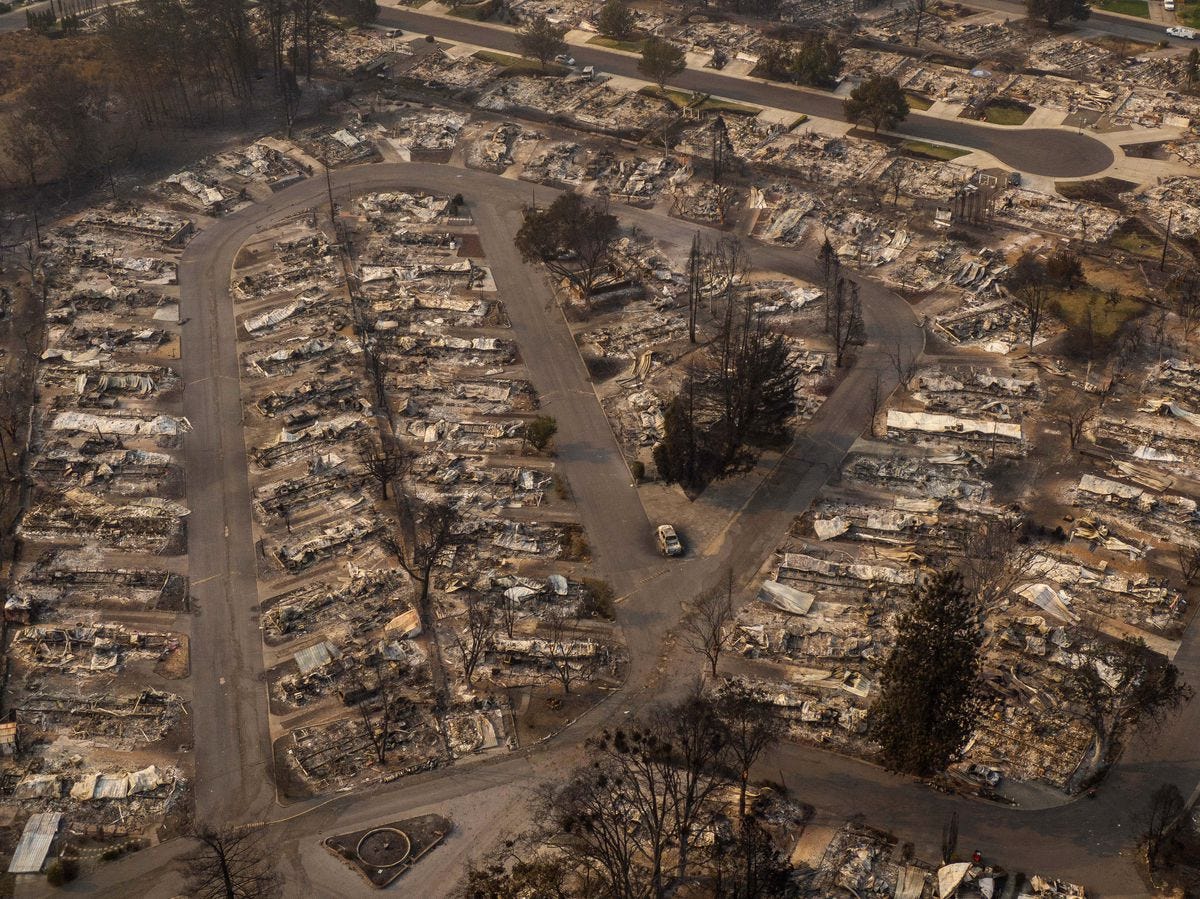 While wildfires are common in California, due to the severity of this year's fires, the damage is much worse: 9x more people have died so far compared to all of 2019, including 11x more structures damaged. Two photos published by the New York Times caught my eye that shows how both stunning and terrifying the wildfires have been.
San Francisco at 10am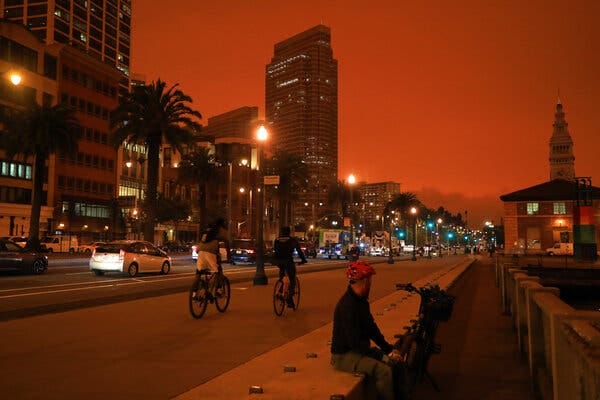 Wildfires in Oroville, CA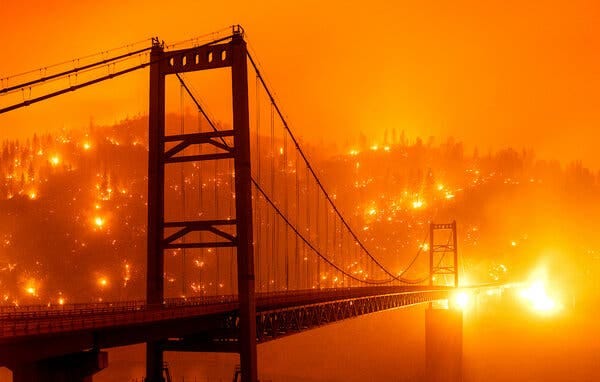 I got curious as to how distributed wildfires were and how much research there was around the frequency and depth of them over the year. The Data Face published a map in 2018 of where wildfires start based on data of 1.88 million wildfires over 23 years (1992 - 2015):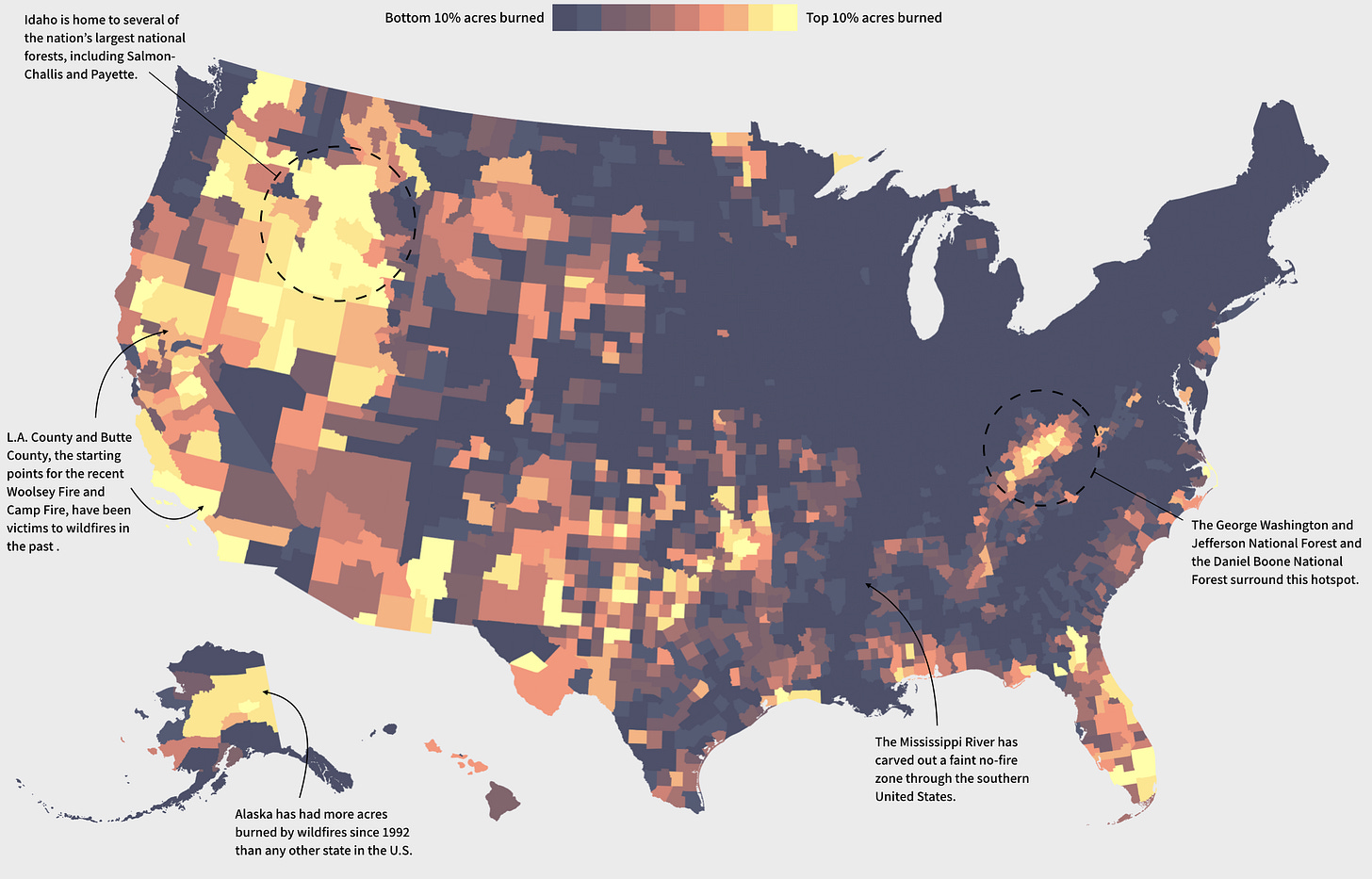 According to their research:
"…while most of the wildfires in the data are small — over 85% burned fewer than 10 acres — they still account for more than 140 million acres burned collectively."
Head over to their original 2018 article to see the rest of their research. It's a quick read and educational.
The History of Levis
Levis is one of the most well known and iconic clothing brands in the world, instantly recognized by most not only based on style but also the trademark red pocket tag.
Robb Report recently published an article about Levis with this great intro where I learned the Levis 501 were patented nearly 150 years ago in 1873:
The Levi Strauss & Co. story is a mythic one that begins in 1853 in San Francisco, when the Bavarian-born Levi Strauss emigrated from New York to capitalize on the allure of the Gold Rush, outfitting prospectors with his dry goods business. It wasn't until 1873, however, that the company cemented its place in the annals of attire. "Levi Strauss & Co.'s blue denim copper-riveted waist overalls, as they were originally called, are the world's first blue jeans and also known as the Levi's 501. They were patented on May 20, 1873, nearly 150 years ago," Tracy Panek, Levi's in-house historian, informs Robb Report.
I went down the rabbit hole of digging into Levis and came across these 5 Interesting Finds about the company:
Levi Strauss didn't wear the original jeans he pioneered, since jeans were designed for the working class and he was a wealthy merchant (source)

Belt loops didn't appear on Levis jeans until 1922, nearly 49 years after the first pairs were designed (source)

Contrary to popular belief, the company didn't manufacturer most of its clothing for the first 73 years—they were a wholesaler. The biggest growth in the company's history didn't occur until 1946, when they abandoned wholesaling in favor of doing the manufacturing. (source)

Levi Strauss & Co is publicly traded with a $5.6 billion in market cap. For reference, Nike is 27x larger ($157B) and Louis Viutton is 8.6x larger ($45.6B).

In 1991, the company was in a huge scandal because it was found that many of their jeans featuring a label claiming "Made in the USA" were actually made by Chinese laborers in terrible working conditions (source)
Other Interesting Finds 🔎